ATTENTION PUBLISHER: Done-For-You Bee Graphics Pack!
30 High-Quality Hand-Drawn Bee Colouring Graphics Pack!
Grow Your Publishing Royalties Faster With This Done-For-You Pack
Dear Friend,
Did you ever colour in a colouring book as a young child?
I am sure you did, colouring is a huge pass time for children and adults.
It's relaxing, therapeutic to a lot of people…
They can even help you release your stress from a stressful day.
You can see here in the stats from google trends below.
Just searching for Bee Colouring and Colouring bees, you can see it has a very steady flow over the last five years…
Bee colouring books are all the buzz among young children! These delightful books featuring cute and fuzzy bees have become increasingly popular as a fun and educational activity for kids. With their bright yellow and black stripes, bees are instantly recognizable and capture the imaginations of children everywhere.
The popularity of bee colouring books for young children can be attributed to several factors. First and foremost, bees are fascinating creatures that are essential for pollinating flowers and crops, making them an important part of our ecosystem.
Colouring books featuring bees allow children to learn about the importance of bees in a fun and engaging way, as they colour in the bees' unique features, such as their wings, antennae, and stingers.
Secondly, bee colouring books are a great way for young children to express their creativity. Kids can use their imagination and artistic skills to choose different colours for the bees, flowers, and backgrounds, creating their own unique bee-themed masterpieces.
Colouring also helps develop fine motor skills and hand-eye coordination, making bee colouring books a beneficial activity for early childhood development.
Additionally, the cheerful and cute appearance of bees in colouring books makes them appealing to young children.
Bees are often depicted as friendly, smiling creatures in these colouring books, which can help alleviate any fear or apprehension some children may have about bees in real life. This positive portrayal of bees in colouring books encourages children to appreciate and respect these important insects.
Furthermore, bee colouring books are an excellent way for parents and educators to introduce environmental awareness and conservation topics to young children.
Bees are facing various challenges, such as habitat loss and pesticide exposure, which threaten their survival.
Colouring books that highlight the importance of bees and their role in pollination can help raise awareness about these issues from an early age, fostering a sense of environmental stewardship in young minds.
In conclusion, bee colouring books are incredibly popular among young children due to their educational, creative, and fun aspects.
These books provide an exciting opportunity for children to learn about bees, express their creativity, and develop fine motor skills. As children colour in these cute and fuzzy insects, they not only have fun, but also gain a greater appreciation for the importance of bees in our environment.
So, let's get buzzing with some bee colouring fun!
Introducing the Bee Colouring Graphics Pack
Let's Have A Sneak Peek Inside!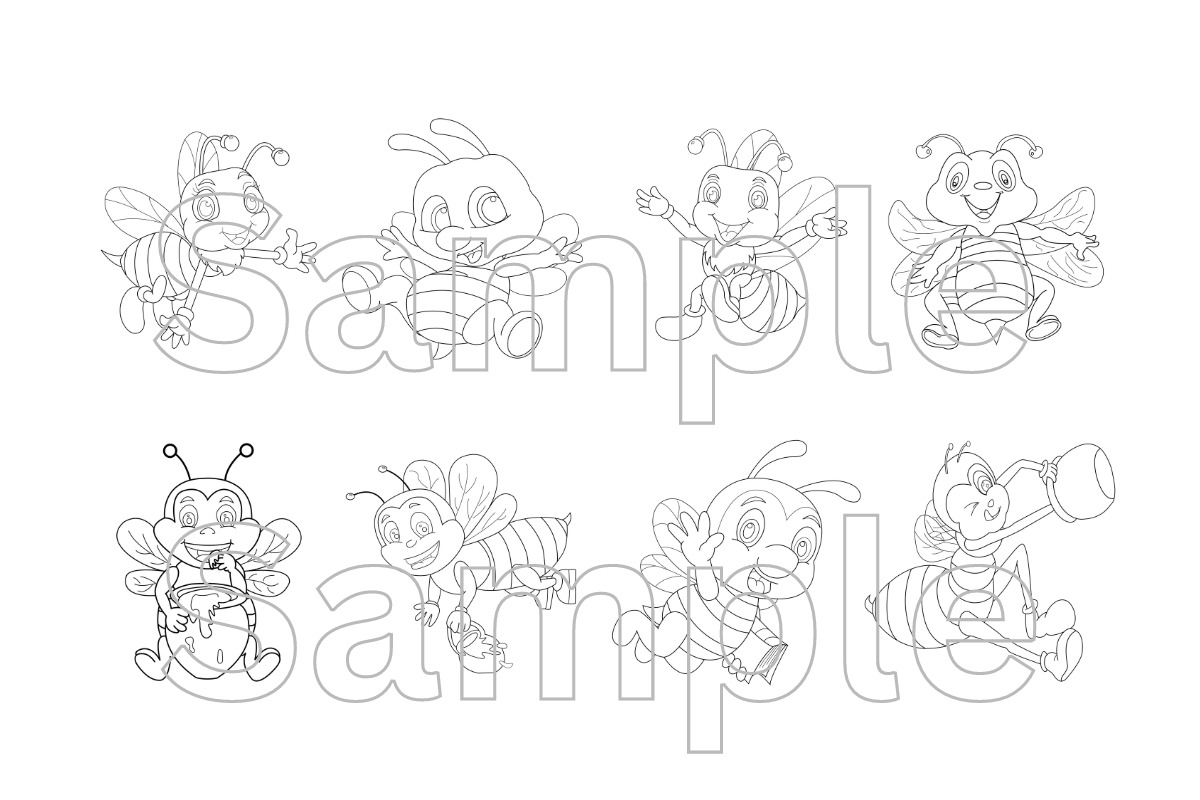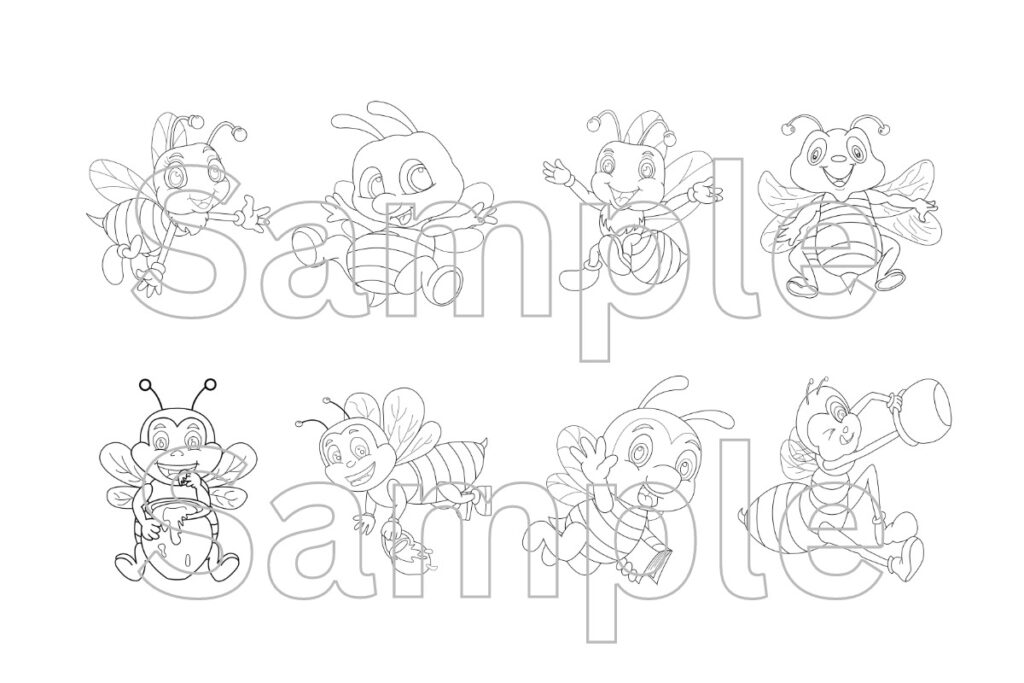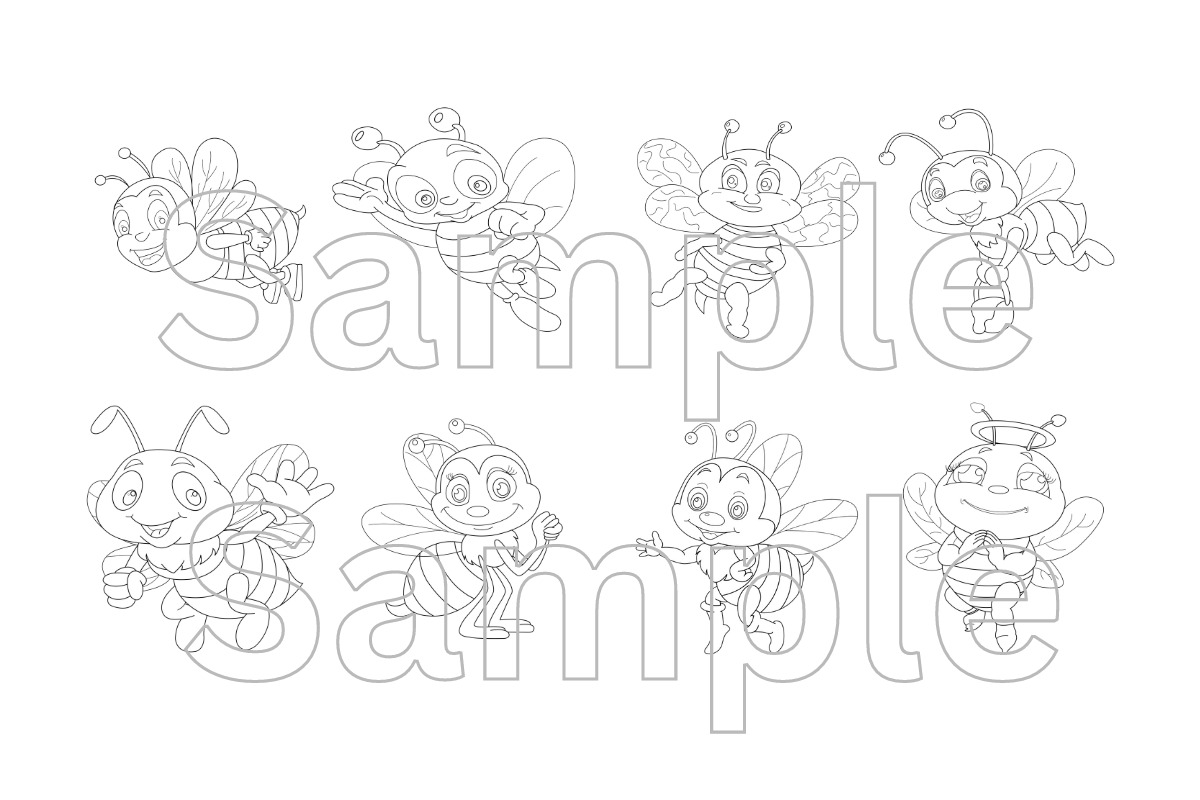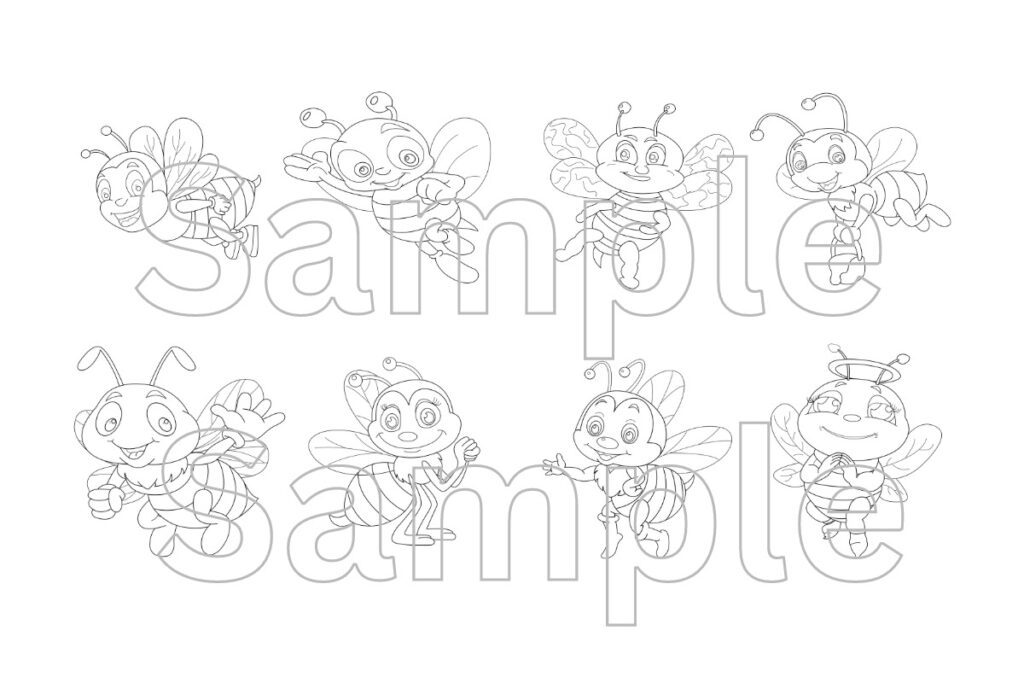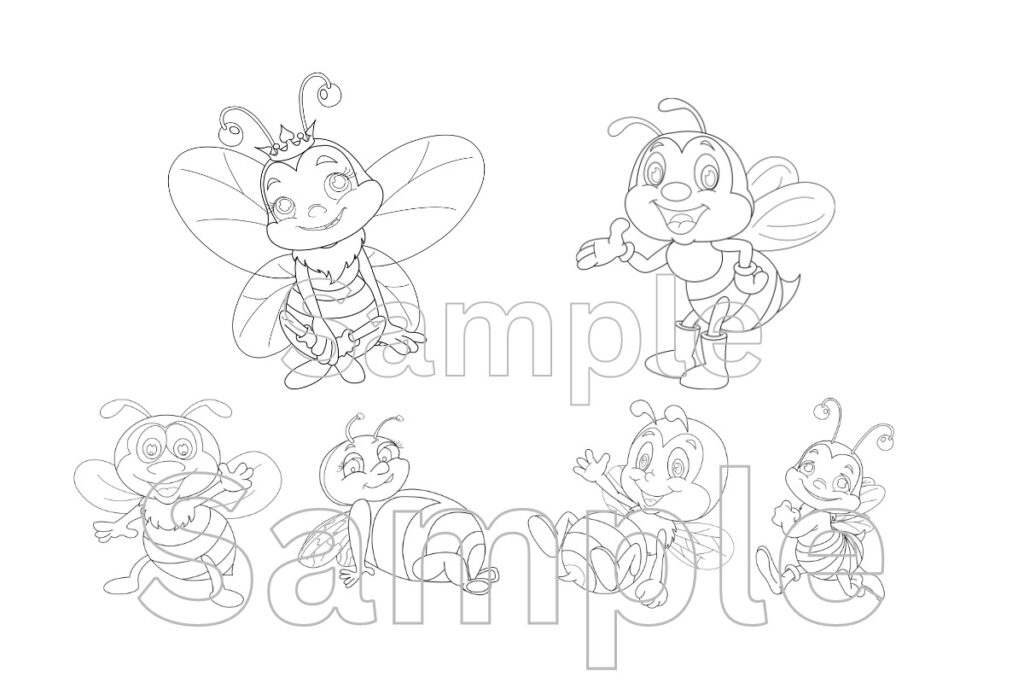 A buzz-worthy bundle that's perfect for young nature enthusiasts and budding artists!
This is a delightful and captivating package filled with adorable bees.
A stunning graphics pack featuring a variety of bee-themed illustrations.
Inside the colouring pack, your child will embark on a thrilling colouring adventure. Bringing to life charming bees with their vibrant yellow and black stripes.
With detailed illustrations showcasing the bees' unique features, such as their fuzzy bodies, intricate wings, and cute smiles, your child will have a blast colouring in these friendly insects.
Colouring books also provides a fun and educational opportunity for children to learn about the important role bees play in pollinating flowers and crops, promoting environmental awareness from an early age.
But that's not all – the Bee Graphics Pack takes the excitement to the next level! Packed with a variety of high-quality illustrations, including 30 bees in different poses.
This graphics pack provides endless creative possibilities.
Whether your child wants to design their own bee-themed colouring books, greeting cards, create custom wall art, or embellish their school projects, the Bee Colouring Graphics Pack is a treasure trove of artistic inspiration.
Featuring a stunning array of bee-themed graphics, this pack is perfect for parents, teachers, Kids book creators and artists alike.
The graphics are easy to use and can be printed, resized, or digitally manipulated to suit any creative project. The vibrant colours and adorable details of the bee illustrations are sure to capture the hearts and imaginations of children, making this bundle an instant hit.
So why wait? Let your child's creativity take flight with the Bee Colouring Graphics Pack. Get your hands on this must-have bundle today and watch your child's imagination soar as they bring these lovable bees to life with their own artistic flair.
Don't miss out on this sweet deal – order now and let the colouring and creativity begin!
30 Black and White Line Art Drawings.
Commercial Right Use.
PNG, SVG, Transparent PNG Files.
Graphics Sizes 8" x 8" Perfect size for 8.5" x 11" pages.
All Are 300 DPI…
What's It All Going To Cost For This Very Cool Bee Colouring Pack
Listen, for what you going to pay today, if you create 1 book good book out of all these characters, and that one book hits as a best seller you going to do very well in royalties.
At least, if you can get 1 good book to rank, you'll gain a great BSR. Meaning more royalties for you to bank…
You'll be making your money back in no time… And that's just one book…
Imagine if you put a little more effort in and create 5, 7 even 10 or more books. It's building and growing your monthly royalties faster and higher…
You read this far, Now it's time to take action…
Grab your copy today for a mere $17.00…
Now That's a bargain right there…
30 High-Quality, High in demand graphics at a mere $0.56 each, I think I am doing myself over here…
Better Hit The Buy Button Before I change my mind…
All the best,
Simon Newcombe…
P.S Don't miss out on this amazing deal today, you'll be kicking yourself when you come back to a higher price…
P.S.S  Listen, This will only be available at this crazy low price for the launch week…
Without trying to scare you into buying today, I can not keep it at this low low price for long…
Once the launch is over the price will rise to $27.00…
Let's Recap Everything You'll Be Getting!
30 Black and White Line Art Drawings
Full Commercial Right Use
PNG, SVG And Transparent PNG File Format
Graphics Sizes 8" x 8"
All are in 300 DPI
Full Customer Support
You're stealing money from my pocket at $17.00 price point… How will I survive, I must be nuts…
However the price will rise after launch week, price will rise to $27.00
This is not a scary tactic, this is the real and when you buy today you're getting the best deal.
If you come back later you may end up paying more…
Frequently Asked Questions
What rights do I have with these files?
[YES] You can use these for your own personal use
[YES] You have commercial rights which allows you to use them on end user products like colouring books or print on demand.
[YES] You can edit these in any way such as adding more detail or patterns but the personal use and commercial rights above still apply.
Great stuff. So, What can I not do?
[NO] You CANNOT sell on any of the files in any way.
[NO] You CANNOT sell the designs as PLR in anyway
What does this all cost?
The Full 30 Bee Colouring Graphics Pack will cost $17 and will increase to $27 after launch.
In what format will I receive the files?
Designs will be available in PNG, Transparent PNG and SVG format.
What programs will I need to use the files?
While the PNG files can be used in multiple programs such as Power-Point, and Canva, The SVG files can only be used in vector programs such as Adobe Illustrator and Ink-scape as well as PowerPoint.
How can these designs be used?
This Bee Colouring Graphics Pack was designed and created for you to use on the KDP program, mainly for the creation of colouring books. However you can also use them with any print-on-demand programs.
Can I get a refund once the transaction is complete?
There are absolutely no refunds.
What if I have issues with access?
So simple, just send a quick email to support@lcbgraphics.com, and I will get you sorted as soon as I get to your email message.